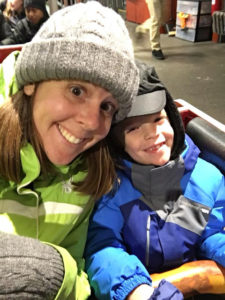 I really thought this year was going to be the year that I finally had the perfect Thanksgiving dinner. This was going to be the year that you sat at the table, told us all your jokes, and tried all the vegetables. This year was going to be perfect. I had the picture perfect memory, a gushing blog post, and the perfect Instagram caption in my head. With your thief being gone for most of the fall, I just knew it was going to happen.
It didn't happen.
Instead, before Thanksgiving dinner, you and Mrs. Mischief were getting a bit antsy, so I took you two to the park to burn off some energy. All was going well until right before we were packing up to head to back to Grandma and Grandpa's house and a stranger from the park, called to us asking for help. Her son had left the car door slightly ajar and why they were playing at the park, her car battery died and she needed help jumping their car.
This wasn't a big deal, however, you couldn't process it.
You, couldn't process that the strangers from the park just needed a little bit of help to get their car going. That it wasn't an emergency. All we needed to do was hook up the negative to the negative and the positive to the positive.
Instead, your mind became all jumbled and you started asking me lots of questions.
Do we need an ambulance?
What color will the ambulance be?
How many doors will the ambulance have?
Will the police come?
Do we need a new car?
Why aren't we taking her car?
Is our car broken?
This situation quickly turned into a gigantic mess. The same kind of a mess as when you run a blender with the top off. Your questions splattered all over the kitchen counter, cabinets, and ceiling.
We came home, and you started acting out. Picking on your sister and cousin. When that didn't work you started to attack me. You were spinning out of control and my words couldn't help you.
You didn't get it. You couldn't process it. You couldn't figure out what had happened and that this wasn't an emergency.
You didn't understand that we were home and safe.
Five minutes before the perfect Thanksgiving dinner was to finally happen I sent you upstairs to calm down.
To calm down, to sort your emotions, to put the top back on your blender.
While you were calming down we ate. We ate without you. Without your jokes and without you digging into Grandma's famous broccoli and cheese casserole. Without your presence once again.
To be fair, we also ate without Mrs. M as well, as she didn't want to take a break from playing with her dolls, and I was frankly done with fighting battles for the time being.
It still stung a bit, to have you and your sister missing from the Thanksgiving meal. To be robbed by your thief again.
I thought this was going to be the year. I thought this was going to be the perfect Thanksgiving.
As I started to dwell once again on the injustice your thief provides, I started to think about how much we really have to be thankful for and boy do we have a lot to be thankful for.
I am thankful …
That we are surrounded by family members who fiercely love and accept you.
That we have a family that fully accepts that you needed a little extra time.
That we have a family that not only gets along with each other but enjoys each others presence.
That we have electricity.
That we have warmth.
That we have the means to have a bountiful Thanksgiving dinner.
That we all have our health.
While I was thinking of all the things that I am grateful for about halfway through the meal, my two mischief makers slowly made their way over to the table.
Was it perfect?
No.
They turned their noses up to the broccoli and cheese casserole, only ate the rolls and neither mischief maker was a polite dinner guest.
Instead of being perfect, it was perfectly imperfect and I'm truly thankful for that.
I hope you had a wonderful Thanksgiving and that you found peace within your perfectly imperfect or maybe just plain perfect holiday as well.
xoxo – the chaos manger