Fun hands on experiments with bubbles and ooze.
From 10:00 AM until 3:00 PM
At Echo Leahy Center for Lake Champlain
1 College Street
www.echovermont.org/viewevent.html?event=1298
Cost: free with admission to ECHO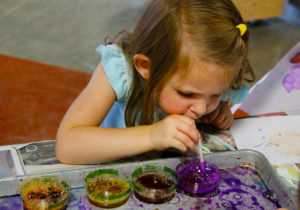 Fizzy Fest is ECHO's summertime festival, featuring the messiest science shows of the year. Join us for hands-on activities that explore the science behind carbonated beverages, experiments that bubble and ooze, and — returning this year —the extremely popular giant pile of foam! Open to all ages. Free with Admission or ECHO Membership.  
Don't forget that ECHO has an adaptive stroller for families to utilize on the Burlington Waterfront.  There are also headphones to borrow if your child is sensitive to the noise level while visiting the ECHO Leahy Center.