1 College Street, Burlington, VT, United States
1 College Street
Burlington
Vermont
05401
US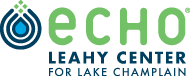 Kayla's Directory has some day passes available for you to take your child to ECHO.  The ECHO center is a wonderful to take your child to explore.  They have a lot of hands on activities for children of various ages. Please email skruk@kaylasdirectory if interested.
ECHO also has noise cancelling headphones to access if your child has sensitivity to noise.  And finally, if you want to explore the Burlington waterfront you can access the adaptable stroller that is at the ECHO center.  This is for families to use free of charge!
Check out ECHO Center.