3 Batterymarch Park, 5th Floor Quincy, MA 02169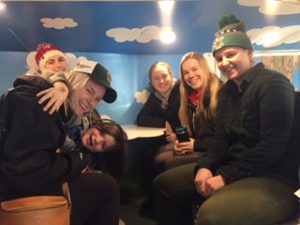 Team Impact connects children who have special health needs to local college athletic teams.  Team Impact's mission is improving the quality of life for children facing life-threatening and chronic illnesses through the power of team.
Team Impact has had such a positive impact on our daughter.  She has been on the UVM women's hockey team for three years. There is something magical about being part of a team, feeling included, and making connections. The connections that have been made will leave a lasting impression on our daughter.
431 Pine Street Suite 214 Burlington, VT 05401
Make a Wish Foundation of Vermont is an incredible organization that has granted 700 wishes to Vermont children with life-threatening medical conditions over the last 25 years.   Make-A-Wish serves a unique, and vital, role in helping strengthen and empower children battling life-threatening medical conditions.  The work they do is truly inspirational.
241 Mashapaug Road Holland, MA 01521
Team Hoyt Foundation is a non-profit organization that aspires to encourage children with special needs to be a part of their community.   Dick and his son, Rick, have completed running races and triathlons throughout the United States.  They are truly an inspiration.  The foundation is very resourceful at getting adaptive strollers and bicycles.  They have numerous running races throughout the year that include people with all types of disabilities being pushed in adaptive strollers.