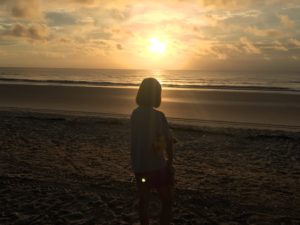 Okay, so we were gone 13 days and had only 2-3 meltdowns and only 2 falls!  That is a major accomplishment.  The first six days included travel and the lovely theme park adventure!
We spent two days at Universal Studio. The only bump was the first day when we had to upgrade Kayla's ticket for the meal plan and get her a disability pass.  The meal plan is well worth the money!  She was a bit overwhelmed with the amount of people and the overall transitions, but once we got in the park…we had a great two days.  Kayla went on lots of rides and met a lot of characters, which was fun.
My strategy about any theme park or museum we visit is that Kayla leads the way.  If she wants to go on the same ride over and over…so be it.  If she wants to play in the waterpark at Universal for most of the day, that is what we do.  And if she would rather just go back to the hotel and swim, we go.
After going to Universal for two consecutive days, we took a day off from theme parks.  I figured I needed a break before going to Disney World and Kayla would benefit as well.  The off day was spent hanging with her buddy Max at the pool, which was a blast.  She was so excited to see her friend from Vermont.  Then we took a little afternoon drive and looked at an art school with Kelcie.  It was a low-key and uneventful day.
Disney World was another story.  The transition just to get to the park is a parent's worst nightmare.  You park and then must take the tram or boat to get to the Magic Kingdom.  Well guess what, if you are in an adaptive stroller or wheel chair you don't have the option of the tram because there is no elevator to get to the tram!  We took the boat.  I created a quick social story about how "first we have to take a fun boat ride then we can meet Mickey Mouse!"
We received the disability pass, which honestly didn't do a thing- other than allow me to push her to the start of the line.  Magic Kingdom is utter chaos; there is a ridiculous amount of people, the staff is unfriendly, and there are no accessible restrooms.  The fact that we had to wait in line for 50 minutes to see Winnie the Pooh and Tigger is crazy.  Kayla wanted to go on one ride and they told us to come back in 3 hours!  Fortunately, by that point Kayla was exhausted and was motivated to get a stuff animal on the way out, so she didn't care that we didn't go on many rides.  We left Magic Kingdom with Simba and Nala and a happy kid.
The good news is that Kayla said she had fun at Magic Kingdom. The other good news is that I will never be going back to Magic Kingdom or Disney.  Universal Studio is superior to Disney when working with individuals with disabilities and making things accessible.  The friendly staff at Universal is reason enough to go to that park rather than Disney.
The last 8 days of our vacation were spent at Amelia Island, and it was pure heaven.  Our hotel had an incredible kids' club, the staff was friendly and accommodating, the service was spectacular, the pools were great, and the beach was amazing.  I love this place.  It is the one time of year that I can relax, read a book, do a puzzle, and not cook or clean.
​Kayla is so happy swimming in the pool and going to the beach.  She loves the kids' club.  She participated in a ton of kid activities at the pool.  She looked forward to the mascot that came out every day at 2:00.  The children who attend the kids' club make arts and crafts, watch movies, have lunch, and play games.  Kayla is so content during the day that everything seems to run smoothly.  For the first time ever, she engaged with another child at the pool and played some games with her.  Kayla's sister was shocked by this accomplishment, because Kayla usually just plays by herself.
We keep going back to Amelia Island because of Kayla and the accommodations the Omni hotel makes for her.  Kayla also is very familiar with the hotel now, and the routine which makes her day much more predictable.  Maybe this year felt so relaxing because there were no unexpected things for Kayla.  It was the first year that I could spend alone time with Kelcie, my husband, and sit on the beach by myself.  Or maybe this year was so relaxing because I had just spent 3 days at amusement parks!