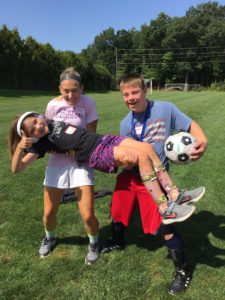 Kayla's Directory strongly believes that community is an important component of the human experience and that a fulfilled and happy life is one that is shared. When designing our programs, we rely on mentors to help make our programs successful. Whether they are adults from within our community, local high school students, or college students, these individuals have a positive impact on children with special needs.
For the last three years, Kayla has participated in a program that is designed to foster positive interactions between collegiate athletes and individuals with special needs.  The EDD Memorial Fund is a local non-profit that provides recreational and competitive sports programs for young people with disabilities.  Kayla has been fortunate to attend clinics held with the St. Michael's Women's Soccer Team.
Gretchen Owens, who runs the EDD Memorial Fund, has organized several yearly clinics with the women's soccer team.  They are well organized and short in length, an award is provided to each child, and the clinic ends with a snack.  But what I am always amazed about is the enthusiasm of the soccer team.
These women are always smiling and having fun.  From the moment they meet the player they are assigned to, they are positive role models.  Whether they are encouraging the child to get out on the field, helping them practice a drill, or just sitting and talking, they are upbeat.  They show a lot of patience while seeing kids who take numerous breaks, refuse to go out on the field, or are unwilling to leave their parent's side.
The compassion that these young women have is evident throughout the entire clinic. They truly care about making connections, making a difference, and ensuring that all the kids have fun while learning to play soccer.  Clearly the St. Michael's women's soccer team has an amazing coach, Wendy Elles, who instills the importance of giving back, making a difference, and emphasizing teamwork.  She clearly has made a positive impact on individuals with special needs and her own players as well.
Thank you Gretchen Owens and the EDD Memorial Fund for offering these clinics.   And thank you St. Michael's Women Soccer team for building positive connections with individuals with special needs.